Former Premier Steve Bracks' son Nick has found purpose beyond fame
Nick Bracks became famous for all the wrong reasons when he crashed a Saab belonging to his dad, then Victorian Premier Steve Bracks, while drink driving in 2007. Now he reveals all.
Nick Bracks with his parents, Terry, and former Victorian premier, Steve Bracks.
Nick Bracks remembers being in his early 20s and desperately wanting to move overseas.
He craved being famous, but the reason he yearned for a change of scene was more to do with the fact he didn't know who he really was.
"I was obsessed with being famous, which is probably common for a lot of people in this day and age, not having self-love,'' Bracks said.
"Not knowing who I was, not knowing what I wanted, probably growing up in a well-known family, I would think, how can I become my own person and become known just as Nick Bracks without needing to do something crazy to do that?"
Bracks did end up being a 20 year-old that everyone was talking about, but it was all for the wrong reasons.
In 2007, he had totalled his family's Saab at 5am after a drinking binge lasting several days. They were events that partly caused his father, Steve Bracks, to resign as Victorian premier.
It felt like a world away from the time he wanted to become a professional athlete, before injury intervened.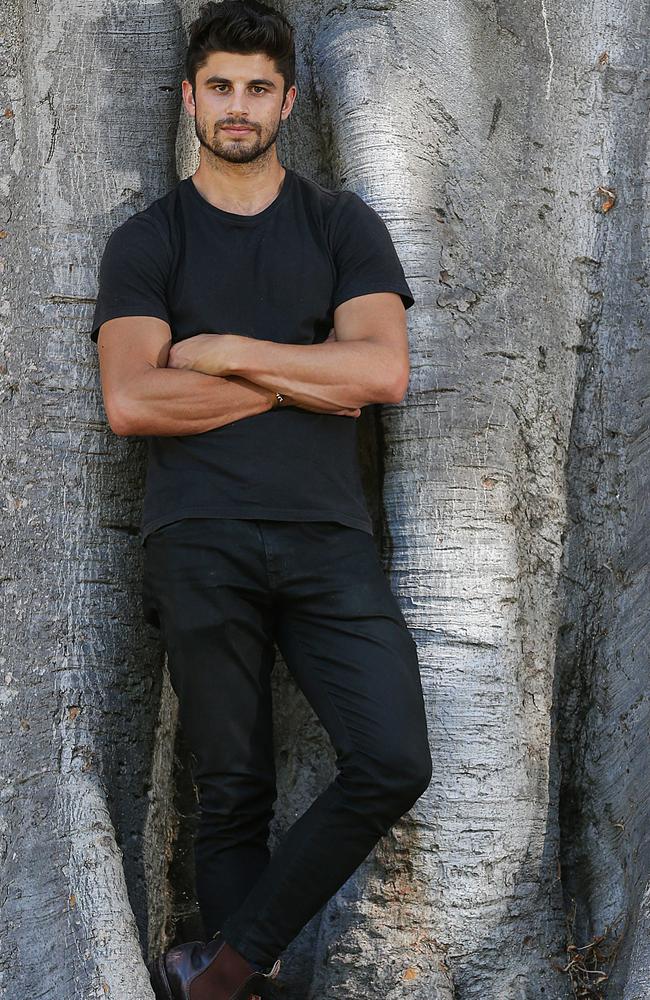 Nick Bracks says his life spiralled downwards after the infamous 2007 crash. Picture: Ian Currie
Life spiralled downwards, with mental health battles, including depression, anxiety and an exercise addiction.
"I wouldn't say it's hard to talk about it but what's not great is having that as the thing people are using as the entry point publicly to talk about things,'' Bracks said of the infamous car crash.
"It's something I don't have any shame about, it's part of my history, but it gets a bit old having that as the main point that people use to drive a story, I guess.
"I remember in my early and mid-20s I desperately wanted to move overseas because I was dealing with all those things and I was confused and didn't know what I wanted and didn't want to confront a lot of things.
"I kept telling myself that I'm not going to do anything like that until I can actually deal with things here. And then get my career to where I want."
Bracks went on to become a model with stints on TV, and has now become a mental health advocate and speaker.
Six months ago he moved to New York to explore greater opportunities and has released a book, called Move Your Mind: How to Build a Healthy Mindset for Life, which contains mental health tips from the lessons he's learnt on his journey
"Throughout all that's happened I've found things that I love doing, and couldn't care less if no one knows what I'm doing as long as I enjoy what I'm doing — that's the main thing,'' Bracks said.
"I only decided to properly do all the overseas stuff a couple of years ago and that was once I was in a really good place.
"I love Melbourne, I miss home and my friends and family, but I'm also ambitious and curious and want to experience other things in life and get other perspectives.
"I feel like I was very lucky to win the green card lottery and it's something, if I didn't do it while I had the chance to live in US and explore opportunities, I'd regret it.
"I'm building on the stuff I've been doing in terms of the public speaking and growing the whole Move Your Mind brand which is in short, a media content company centred around mental health.
Bracks has written a book about mental health, aimed at helping others.
"All the work I do is about showing vulnerability. The book has got the narrative of my story through it but it's not meant to be a biographical book.
"I've interviewed other people and then I've got experts talking about wholistic areas of wellness. It's really engaging stories that anyone can pick up and get something out of it."
Bracks said he had held conversations about turning Move Your Mind into a TV show.
But that wasn't about fame, it was about the chance to help and further the career he was passionate about.
"Like anything, it takes time. but I'm starting to grow a broader network here,'' he said.
"It's been equally amazing and difficult because it (New York) is so expensive and a concrete jungle, never-ending, full-on and stuff going on everywhere, but it's New York and such an amazing place.
"Sometimes I'm walking down the street and I'm like 'what the hell, I'm living here' and it just feels like whatever industry you're in, you've got access to the top tier of everything. It's kind of crazy."